"Honey" de Ohio Players
En 1975, este exitoso combo de negrísimo funk mandó fotografiar para la portada de su nuevo disco a una mulata en cueros chorreándose miel en la boca bajo la divertida mirada del grupo; en el interior, la misma chica aparecía con todo el cuerpo pringado del pegajoso néctar y expresión multiorgásmica. Las feministas pusieron el grito en el cielo y muchas tiendas se negaron a venderlo. Hoy es un clásico, que incluye canciones tan eróticas como Love Rollercoaster (que, veinte años después, sería versioneada por los Red Hot Chili Peppers) o Sweet sticky thing, dedicada a la chica de la portada, claro, que aún está quitándose pegotes de miel de los rincones más oscuros de su cuerpo.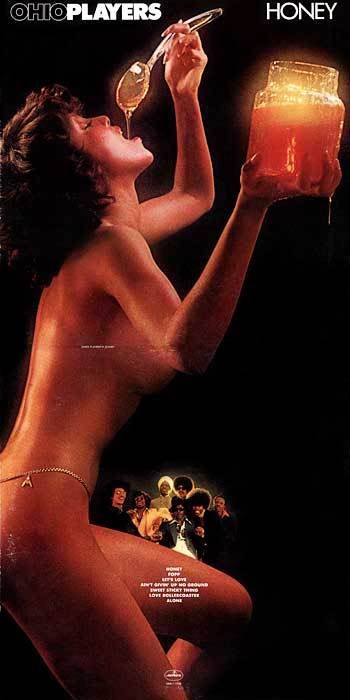 SIDE A:
Honey
FOPP
Let's Love
Ain't Givin' Up No Ground
SIDE B:
Sweet Sticky Thing
Love Rollercoaster
Alone
Los Ohio Players son una banda de funk y R&B cuyo auge fue a finales de los años 1970's.
Su canción "Runnin' from the Devil" inspiró la canción de Van Halen "Runnin' With the Devil".
La banda firmó con Mercury Records en 1974.
El primer hit importante de la banda fue " Funky Worm" que alcanzó el #1 en las listas Billboard de R*B. Se convirtió además en el Top Pop el 15 de mayo de 1973. La banda tuvo siete Top 40 más entre 1973 y 1976 incluyendo los singles "Fire" (#1 en carteleras en ambos el R*B y Pop music durante dos semanas y una semana respectivamente en febrero de 1975 contando además con el mega hit "Love Rollercoaster" en 1976. El último big hit del grupo fue "Who'd She Coo" (#1 en música R&B en agosto de 1976).
En el año 1988, Soundgarden lanza su segundo EP titulado "Fopp", en el cual incluyen un cover de esta canción, ademas de una versión "Fucked Up Heavy Dub Mix".
Los Red Hot Chili Peppers, una de las bandas más influenciadas de los Ohio Players, hicieron un cover de "Love Rollercoaster" para la película "Beavis y Butthead en América".
La banda se hizo extensamente conocida no sólo por su sonido, el cual fue "sampleado" y copiado por incontables bandas de R&B y de Hip Hop desde entonces, sino que también debido a sus sexualmente provocativas cubiertas de álbum, incluyendo la cubierta del álbum "Ecstasy" de 1974, el cual destacaba a un hombre y una mujer en una postura de apareamiento llevando cadenas y cuero, también "Honey" de 1975, que destacaba a una mujer desnuda sosteniendo un tarro que desbordaba miel, dejando caer un poco en su boca con un cucharón.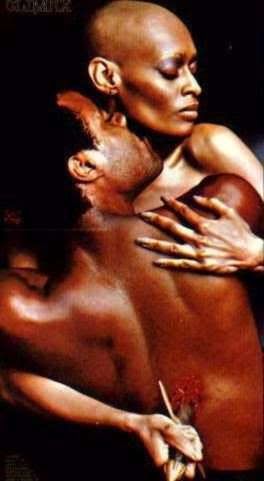 Hay también una leyenda urbana que sostiene que un grito en el tema "Love Rollercoaster " el cual viene antes del segundo verso de la canción, era el sonido de alguien siendo asesinado en el estudio mientras la pista estaba siendo grabada. Se cree que fue el grito de una modelo femenina (la mujer desnuda destacada sobre la imagen para el álbum "Honey") después de haber recibido puñaladas con un cuchillo por el manager de la banda. Ella se quejaba que la miel y el cristal de fibra reaccionaron al ser mezclados causando un daño permanente a sus piernas durante la fotografía de la imagen, terminando con su carrera de modelismo. Ella entonces se acercó al manager, buscando compensación durante la grabación de "Love Rollercoaster" sólo para acabar siendo atacada y apuñalada finalmente. Los Ohio Players entonces dejaron el grito como un tributo enfermizo hacia la modelo. Ver [http: //snopes.com/music/hidden/roller.htm]. La banda no desacreditó este rumor aquel entonces, porque, como un miembro de la banda dijo más tarde, "esto te hace vender más discos."
La verdadera fuente del grito - y los orígenes del rumor - fueron explicadas más tarde por el miembro de la banda, Jimmy "Diamond" Williams: " Hay una parte en la canción donde hay una interrupción. Son las guitarras, y es justo antes del segundo verso cuando Billy Beck hacen uno de aquellos chillidos de tipo de inhalación como Minnie Ripperton hizo para alcanzar su nota alta o como Mariah Carey hace para ir octavas encima. El DJ hizo esta grieta y esto barrió el país. ¿La gente nos preguntaba, ' mató usted este polluelo en el estudio? ' La banda tomó un voto de silencio porque esto les hacía vender más discos. "
ENLACES:
http://es.wikipedia.org/wiki/Ohio_Players
http://www.wfnk.com/ohioplayers/images/westbound.html
http://www.wfnk.com/ohioplayers/images/mercury.html
http://www.adn.es/sexo/20080515/NWS-225 ... sexys.html
http://www.vidasdefuego.com/leyenda-urb ... oaster.htm
Ohio Players Discography
http://www.wfnk.com/ohioplayers/discography.html
http://www.mininova.org/tor/1266587
http://thepiratebay.org/torrent/4490140 ... _-_BzDelia
Website:
http://www.wfnk.com/ohioplayers/index2.html
URBAN LEGENDS: LOVE ROLLERCOASTER
¿QUÉ MACABRO SECRETO SE ESCONDE DETRÁS DE ESTA ANIMADA CANCIÓN?
Son muchas las leyendas dentro del mundo de la música, desde mensajes subliminales satánicos a fantasmales leyendas ocultas bajo los acordes. Sin embargo, nada más espeluznante que la leyenda urbana que rodea a la canción "Love Rollercoaster" del grupo Ohio Players.
Ohio Players fueron un grupo de funk y R&B que gozaron de un considerable éxito durante los setenta. Sus sonidos fueron posteriormente copiados por muchos grupos de R&B al incorporarle funk a sus canciones. Además, el grupo tuvo un gran clamor por la sexualidad que emanaban sus portadas.
"Ectasy" mostraba a una pareja vestida de cuero y con cadenas que se mostraban en plena fase de seducción. Las cubiertas de sus álbumes eran muy provocativas y el grupo tardó poco en descubrir que era algo que había llamado la atención.
Dispuestos a encontrar una nueva imagen sexy que mostrar para su nuevo álbum en 1975 (El primer hit importante de la banda fue " Funky Worm" que alcanzó el #1 en las listas Billboard de R&B) con la que presentar el que sería el auténtico megahit por el que se les conocería en el futuro: Love lovercoaster.
El disco se iba a llamar "Honey", así que el grupo eligió la imagen de una mujer desnuda que sosteniera un tarro que desbordaba miel, dejando caer un poco en su boca con un cucharón.
Cuenta la leyenda que la modelo que realizó el reportaje fotográfico para la portada del álbum fue salvajemente apuñalada por el manager de la banda. Ella se quejaba que la miel y el cristal de fibra reaccionaron al ser mezclados causando un daño permanente a sus piernas durante la fotografía de la imagen, poniendo así fin a su carrera como modelo. Abrumada, exigió al manager de la banda una alta cifra como compensación económica a los daños. La modelo tuvo una fuerte pelea con el manager en el estudio de grabación donde, en ese mismo momento, Ohio Players grababa su tema "Love Rollercoaster". La joven fue apuñalada salvajemente y uno de sus gritos desgarradores quedó registrado para siempre en la canción.
Otra de las variantes de esta leyenda cuenta que fue la propia composición de miel y cristal la que causó el desgarrador grito. El pegajoso ungüento que usaron para dar un color dorado al cuerpo desnudo de la modelo pudo quedarse adherido a él y el grito que se escucha es el de la modelo cuando la despellejaron parte del cuerpo al intentar quitarle dicha mezcla que no había forma de retirar.
Al parecer, la modelo no era anónima sino muy conocida en aquella época por haber posado para la revista Playboy en Octubre de 1974, su nombre es Ester Cordet. Esta joven, nacida en Panamá, conoció al que luego fue su marido en una de las fiestas en la mansión de Playboy. El escritor Robert Ringer se quedó prendado de la escultural joven y pronto iniciaron un romance. Curiosamente, Ester trabajó un año en nuestro país como esteticien. Al ser bilingüe, Ester también hizo trabajos en España como interprete.
Son pocas las páginas que relacionan a la modelo con la fotografía de la portada del álbum pero el parecido es evidente y una de las versiones más famosas de dicha leyenda apuntaba que la modelo podía haber aparecido desnuda en Playboy. ¿Será Ester Cordet?
Un dato curioso es que no se sabe nada de ella desde los setenta. Ester pudo haber contraído matrimonio antes de la sesión fotográfica, pero apenas se sabe más de ella. Ester nació en la nochevieja de 1946, por lo que hoy tendría sesenta y dos años. A no ser que, la portada "honey" fuese su trágico final.
¿Es el grito que suena de esta modelo?
Playboy dispone de una completa fuente de datos de todas las chicas que han posado en su revista, por lo que se puede acceder a la ficha técnica de Ester aquí:
http://www.playboy.com/girls/playmates/ ... 97410.html
Durante mucho tiempo, la banda no quiso aclarar si la leyenda era cierta puesto que, en palabras de uno de los componentes, "todo esto hace vender más discos". Muchos años más tarde, decidieron contar que era falso. Al parecer, el grito ni siquiera podría ser de una mujer, sino de el tecladista de la banda, William Beck, que intentaba imitar el grito de la gente que baja por una montaña rusa (la canción compara el amor con subirse a esa atracción). Verdad o no, el supuesto grito mortal de la canción sigue siendo todo un misterio.
FUENTE:
http://xtarlings.blogspot.com/2008/03/u ... aster.html
PLAYBOY:
http://www.freeweb.hu/playmate/html/7410.html
|
http://vinude.com/img19774.htm
|
http://vinude.com/img19775.htm