Carlos Brooks dirigió su película debut en 2008 que se llamó Quid Pro Quo.
Studio: Magnolia Home Entertainment / Release Date: 8/19/2008 / Length: 82 mins / Subtitles: Spanish
Con Vera Farmiga y Nick Stahl. DVD Review:
http://www.dvdtalk.com/reviews/34641/quid-pro-quo/
En 2010 ha dirigido la última incursión de
Meat Loaf
en el cine.
Ya había dirigido junto a Meat Loaf el video de la canción Los Angeloser de su último album
Hang Cool Teddy Bear
(2010).
Burning Bright
/ DVD-Video / Widescreen 1.78:1 Color (Anamorphic) / Production Year: 2010 / Region 1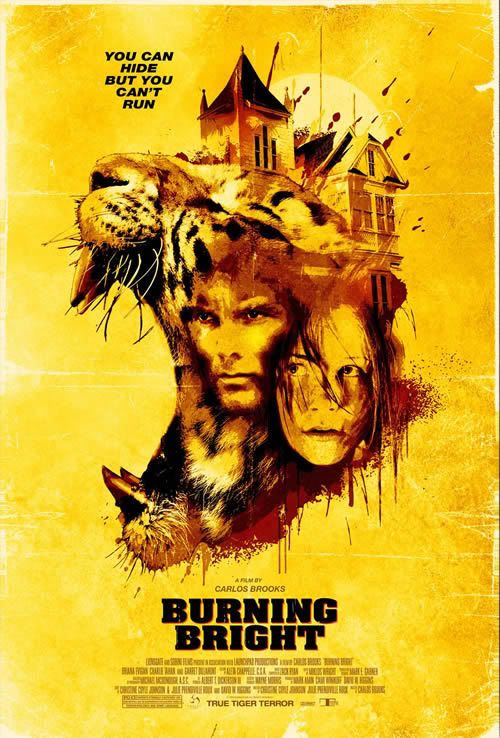 Studio: Lionsgate / Release Date: 8/17/2010 / Length: 86 mins
Video: Widescreen 1.78:1 Color (Anamorphic)
Audio: ENGLISH: Dolby Digital 5.1 / ENGLISH: DD-Plus Stereo
Subtitles: English, Spanish
EXTRAS: Introduction By Actress Brianna Evigan / "Forces Of Nature" Special Effects Featurette
DVD Review:
http://www.dvdtalk.com/reviews/43989/burning-bright/
Sinopsis:
BURNING BRIGHT es una peli dirigida en 2010 por Carlos Brooks. Original e intenso thriller de terror, una de esas pequeñas joyitas que algunas veces salen y casi siempre pasan inadvertidas con una propuesta tan atractiva como es la de un par de hermanos y un tigre atrapados en una casa y envueltos en un trepidante juego del gato y el ratón en medio de una terrible tormenta. El malo de la peli es un tipo llamado Johnny Gavineau, cuya esposa acaba de morir por suicidio y ha decidido convertir su amplia y bonita casa en un safari park con animales salvajes como inversión para atraer turistas. El tipo se cita con un traficante de animales que interpreta nada menos que le mismísimo
Meat Loaf
y le compra un tigre malo y comepersonas. A la casa han regresado los dos hijos de la fallecida, una joven (Briana Evigan) que debe decidir entre cuidar a su hermano autista o pirase a continuar sus estudios. Se acerca un huracán enorme y toda la casa está tapiada de protecciones. La joven se levanta de dormir y alucinada observa cómo un tigre camina por la casa y cómo todas las entradas o salidas han sido bloqueadas también. Los dos hermanos deben luchar por su vida contra el apetito de tigre asesino.
Si se piensa bien bien, al final la peli se parece un montón a slashers del tipo Halloween o aquellos con pobres victimas sólas en su casa y acosadas por killers, con escenas en armarios, bajo cama, etc...pero con un tigre en vez de un killer. Y la verdad es que todo funciona perfectamente y convence, a pesar de algunas reacciones poco racionales, a algún que otro agujero en la trama y quizá a un exceso de melodrama entre la relación de los hermanos. Por otra parte la creación del tigre es totalmente acertada, sin usar nada de CGI, sino planos reales y composiciones. La heroína es la californiana Briana Evigan que se duda su personaje excelentemente. Sin duda, serie B moderna de primera categoría.
Tapa y Reviews del disco de UK:
DVD Review:
http://www.sexgoremutants.co.uk/bubrightmom.html
Edita Momentum en UK. Amazon.co.uk:
http://www.amazon.co.uk/Burning-Bright- ... 003JSRSSC/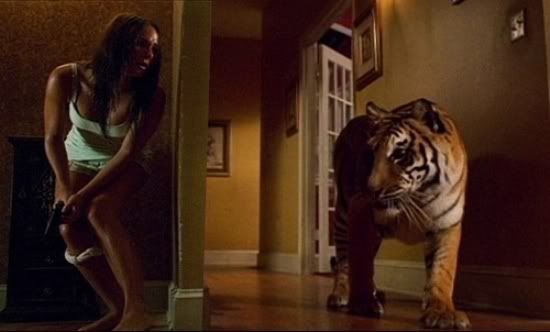 Movie Review:
http://www.beyondhollywood.com/burning- ... 10-review/
RESEÑA: Cuando Kelly, una joven de 20 años, se despierta asustada en medio de la noche durante el paso de un violento huracán, descubrirá que no está sola, y que un tigre hambriento se pasea por su casa. Atrapada dentro de la casa con todas las puertas y ventanas tapiadas, y sin poder localizar a su padrastro, Kelly tendrá que luchar por su vida y por la de su hermano autista contra esta bestia asesina.
Sobre la protagonista,
Briana Evigan
:
Briana Barbara-Jane Evigan, es una actriz, cantante, bailarina y coreógrafa estadounidense mejor conocida por interpretar a Andie West en Step Up 2: The Streets y por interpretar a Cassidy Tappan en la película Sorority Row.
Briana hizo su debút en 1996 con la película House of the Damned. En el 2003 apareció en el vídeo Numb de Linkin Park.
También ha aparecido en el episodio "New Year's Day" de la serie Fear Itself (2008), en el video Push de Enrique Iglesias y en la película de 2009 S. Darko.
Proximamente se la verá en Mother's Day de Darren Lynn Bousman (de la saga SAW) junto a Deborah Ann Woll (la vampira pelirroja de True Blood) Jaime King, Rebecca De Mornay y Alexa Vega.
Fuente:
http://es.wikipedia.org/wiki/Briana_Evigan
,
http://en.wikipedia.org/wiki/Briana_Evigan
Websites:
http://beviganfan.com/
,
http://www.brianaevigan.org/
La próxima película de Carlos Brooks se llamará "Blue Byu" y contará nuevamente en el elenco a Vera Farmiga y se le suma Maggie Gyllenhaal.
ENLACES:
Interview: Carlos Brooks on "Quid Pro Quo"
http://www.ifc.com/news/2008/06/carlos- ... ro-quo.php
Interview: Burning Bright Director Carlos Brooks
http://www.beyondhollywood.com/intervie ... os-brooks/
http://www.exvagos.es/terror-v-o-and-v-o-s/169851-burning-bright-2010-dvdrip-terror-v-o-subtitulos-espanol.html
http://www.bloghorror.com/2010/08/burni ... -2010.html
http://www.truchinga.org/post/cine-y-tv ... spaol.html
http://www.taringa.net/posts/tv-pelicul ... s/6720098/
Burning-Bright%5BDVDrip%5D%5BXviD%5D%5BSubtitulos%5D%5B2010%5D.html
http://www.taringa.net/posts/tv-pelicul ... s/6609301/
Burning-Bright-2010-DVDR-%5BNTSC%5D%5BThriller%5D.html
http://www.taringa.net/posts/tv-pelicul ... s/6648125/
DVDFull---Burning-Bright---%5BMU-HF-NT-FR-FS%5D%5B2010%5D%5BNTSC%5D.html
http://thepiratebay.org/search/meat+loaf/0/3/0
Burning Bright: Tráiler y galería de imágenes del thriller con tigre asesino
http://www.cinemaniablog.com/post/4855/burning-bright-trailer-y-galeria-de-imagenes-del-thriller-con-tigre-asesino